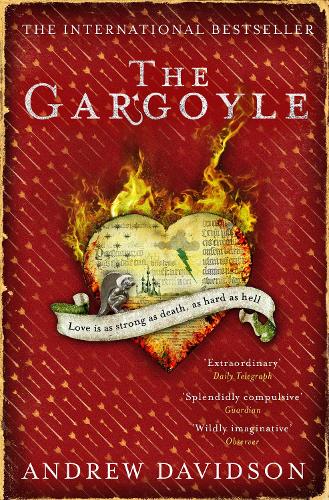 The Gargoyle
1 available
Book Details:
Publisher:Canongate Books ISBN:9781847671691 Published Date:1st January 2009 Dimensions:130 X 196 X 36 mm Weight:0.4220 kilograms Pages:512 Binding:Paperback Condition:VeryGood Notes:**PAPERBACK**
Short Description
The mass-market edition of the international publishing sensation - a Richard and Judy Best Read 2009 pick
---
Full Description
A young man is fighting for his life.
Into his room walks a bewitching woman who believes she can save him.
Their journey will have you believing in the impossible.

The nameless and beautiful narrator of The Gargoyle is driving along a dark road when he is distracted by what seems to be a flight of arrows. He crashes into a ravine and wakes up in a burns ward, undergoing the tortures of the damned. His life is over - he is now a monster.

But in fact it is only just beginning. One day, Marianne Engel, a wild and compelling sculptress of gargoyles, enters his life and tells him that they were once lovers in medieval Germany. In her telling, he was a badly burned mercenary and she was a nun and a scribe who nursed him back to health in the famed monastery of Engelthal. As she spins her tale, Scheherazade fashion, and relates equally mesmerising stories of deathless love in Japan, Greenland, Italy and England, he finds himself drawn back to life - and, finally, to love.
---
Review
Extraordinary . . .
The Gargoyle
has a big personality . . . An exotic adventure. * * Daily Telegraph * *
Wildly imaginative . . . Bound to be an international bestseller. * * Observer * *
Reads like a thriller * * Guardian * *
Compulsively readable . . . the pages almost turn themselves. * * Metro * *
Horrifying and fantastical, this exploration of deathless love shocks and mesmerizes. * * Good Book Guide * *
Mixing romance, classic allusion and reality, Davidson's debut is a bravura performance. * * **** Marie Claire * *
Totally absorbing, it is the most amazing debut novel. -- John Bishop * * Daily Express * *
---