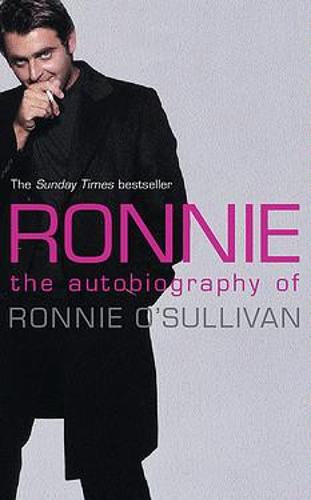 Ronnie: The Autobiography of Ronnie O'Sullivan
1 available
Book Details:
Publisher:Orion (an Imprint of The Orion P ISBN:9780752858807 Published Date:4th March 2004 Dimensions:130 X 198 X 30 mm Weight:0.2801 kilograms Pages:304 Binding:Paperback Condition:Good
Short Description
Widely regarded as 'the most naturally gifted player ever' (Sporting Life), Ronnie O'Sullivan is far and away the sport's most written and talked about player.
---
Full Description
Ronnie is snooker's most written and talked about player, and its greatest showman. His supreme talent and style have made him the People's Champion and, as one commentator put it, 'the question is not how much does Ronnie O'Sullivan need snooker, but how much does snooker need Ronnie O'Sullivan?'

At 15, Ronnie became the youngest player to compile a recognised maximum break during the English Amateur Championships. He turned professional in 1992 and won 38 successive matches that year alone. In 1993, at just 17, he became the youngest winner of a world ranking tournament when he defeated Stephen Hendry to win the UK Championships. In 1997 he recorded the fastest 147 break in history - in just 5 minutes and 20 seconds - and has gone on to better that three times. In 2001 he confirmed his legendary status by winning the Embassy World Title.

But Ronnie's autobiography will reveal more just than just the sporting side of the man the BBC speculates 'could become the world's greatest ever'; it will also be a full and candid account of an extraordinary life. It will tell of the infant who was introduced to legendary snooker clubs at an impossibly early age, of the boy who was taking on and defeating all comers at 12 and frightening off the bookies in the process, of the teenager whose life was decimated when his father and mentor was sent to prison for life; of the man dubbed the 'genius' of the modern game who regularly threatens to quit the sport to pursue other interests at the grand old age of 28.
---