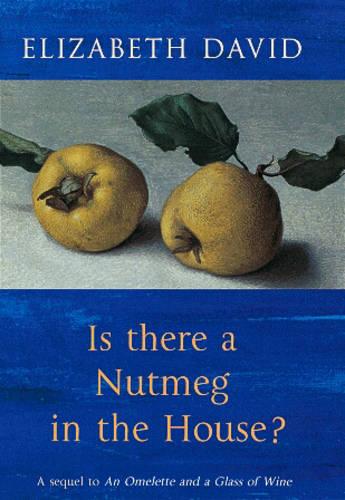 Is There a Nutmeg in the House?
1 available
Book Details:
Publisher:Michael Joseph ISBN:9780718144449 Published Date:26th October 2000 Dimensions:162 X 236 X 33 mm Weight:0.6125 kilograms Pages:336 Binding:Hardcover Illustrations:b&w photographs, line drawings Condition:VeryGood
Short Description
Although cookery writer Elizabeth David died in 1992, Jill Norman, her literary executor, knew there was still enough material to make a second volume of collected pieces. These writings on food and wine epitomise her great culinary savvy.make a second volume of collected pieces.
---
Full Description
This anthology of Elizabeth David's work is a direct sequel to "An Omelette and a Glass of Wine". It again contains a selection of her journalistic and occasional work from four decades. Much of it she had chosen herself for reprinting in this more accessible form. In addition there is a considerable amount of unpublished material found in her own files, or contributed by friends to whom she had given recipes, or to whom she had sent letters, either with notes in answer to queries or giving details of current research. None of the material here appears in any of her other nine books. The emphasis throughout is on the practical aspects of cooking and eating, and the book contains over 150 recipes. These stem from many different countries, but they all have Elizabeth David's unmistakable personal touch - a Mediterranean tomato consomme or a typically English raspberry ice-cream. Little-known articles on her many and varied likes and dislikes complete a unique picture of what for so long made her the most influential cookery writer in the English language. Her work is always immensely readable, elegant and witty, and she has a wonderful ability to share her sense of season and place, her passionate interest in food, its history, its myriad personalities, its role in civilized society. Those who have followed her progress from the astonishing "Mediterannean Food" to the equally unexpected "Spices, Salt and Aromatics in the English Kitchen" will find much that they have not seen before. For those who are new to Elizabeth David, a feast awaits you.
---