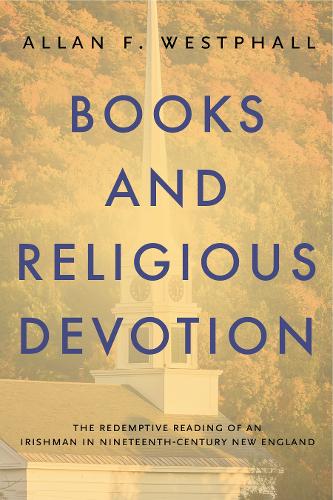 Books and Religious Devotion: The Redemptive Reading of an Irishman in Nineteenth-Century New England
1 available
Book Details:
Publisher:Pennsylvania State University Pr ISBN:9780271064048 Published Date:10th September 2014 Dimensions:162 X 236 X 30 mm Weight:0.5672 kilograms Pages:248 Binding:Hardcover Illustrations:34 Halftones, black and white Condition:New
Short Description
Examines the book collection of Thomas Connary, a nineteenth-century Irish Catholic New England farmer, to reconstruct how Connary read and annotated his books. Reveals how books can structure a life of devotion and social participation, and presents an authentic, holistic view of one reader's interior life.
---
Full Description
In Books and Religious Devotion, Allan Westphall presents a study of the book-collecting habits and annotation practices of Thomas Connary, an Irish immigrant farmer who lived in New Hampshire in the latter half of the nineteenth century. Connary led a pious life that revolved around the use, annotation, and sharing of religious books. His surviving annotated volumes provide a revealing glimpse into the utility of books for a common reader-and they show how one remarkable, eccentric reader turned religious books into near icons. Through a careful excavation of book adaptations and enhancements, Westphall gives us insight into the range of opportunities provided by the material book for recording and communicating Connary's religious fervor. The study also investigates the broader nineteenth-century cultural setting, in which books are seen as testimonies of personal faith and come to function as instruments of social interaction in both domestic and public spheres. Underlying Connary's many and varied interactions with books is his belief that working in books, as physical objects, can be a devout exercise instrumental in human salvation.
---
Review
"Allan Westphall brings together an extensive knowledge of Thomas Connary's sources (his books), the scholarship directly and indirectly dealing with a reader's interaction with his texts, and the old Irish and medieval sources of Connary's Catholicism. This fresh, original study explores the significance of a reader's text embellishments and examines how a farmer and 'book keeper' can integrate himself into his books-making them an extension of himself."
-A. Franklin Parks, Frostburg State University
"Allan Westphall's book is more than an exhaustive account of one reader reading. It is a welcome excavation of the ways in which a non-elite New Hampshire farmer lived his reading, physically manipulating his books to reflect and develop his beliefs and devotional practices. Westphall's meticulous insights into the material dimension of reading illustrate the surprising ways the physical text has been used for religious self-fashioning."
-Michael J. Everton, Simon Fraser University
"Allan Westphall has made quite a remarkable find: a late nineteenth-century Irish immigrant who, deep in Puritan New England, left ample traces of his reading of devotional texts, including Julian of Norwich's
Revelations of Divine Love
. Westphall unfolds the significance of this material through an exceptional range of inquiries into the Protestant publishers in Boston who printed Catholic devotional texts; into Irish immigrant life in New Hampshire; and into reading practices and the purpose, status, and value of marginal annotations. This study is richly diverse in its illuminations and a model of what the history of the book might contribute to social and religious history, as well as to our understanding of the mind of a reader whose visions led Protestant authorities to declare him insane. As our acquaintance with Thomas Connary deepens, we reflect on our own practices and experiences as readers, not all of which we might wish to confide to posterity. Connary has found in Allan Westphall a most ingenious and sympathetic interpreter of his marginalia and interleavings."
-Charles Lock, University of Copenhagen
---