Our little café in the middle of the bookshop is open again! Tuesday-Sunday, 10am-4pm.
COVID-safe, for takeaway tea, coffee, hot chocolate and slices, you can eat and drink inside or at our tables outside the bookshop.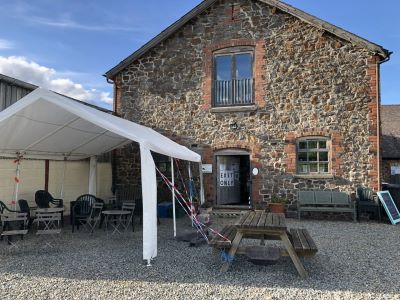 For more information, and to book for group visits, call us on 01547 530744
Our takeaway slices and cakes are made by Jo Bebbington of The Loft at Church Stretton: delicious brownies, our dark chocolate and ginger tiffin, millionaires shortbread, and flapjack. We are also pleased to see the return of some customer favourites: the Coffee and Walnut Cake, the Lemon Drizzle and the Gluten-free Almond and Blueberry!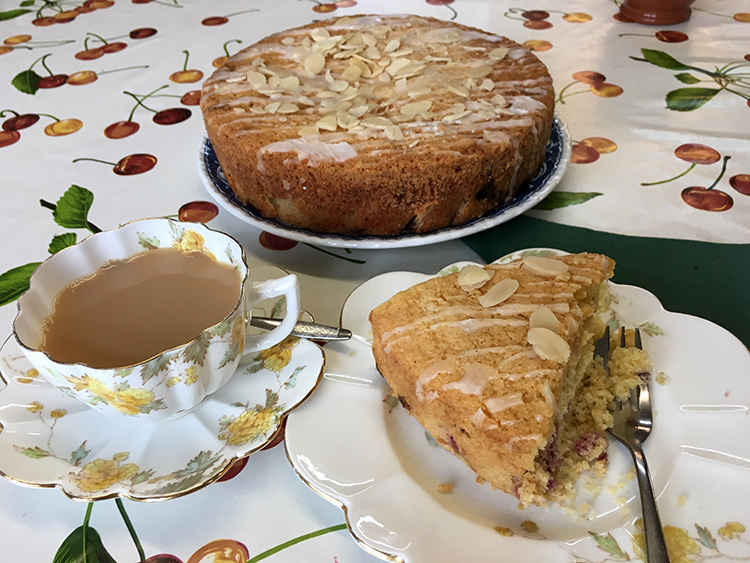 Our Aardvark Coffees
We serve quality ground coffees supplied by High Ground: Fairtrade, medium roast, flavourful coffee.
We have in stock: (in order of strength of flavour, mild to strong):
Colombian - mild, rounded, most enjoyable
Kenyan Blue Mountain - rounded, smooth, a delightful coffee
Sumatran - perhaps our most popular, distinctive, medium-strength with excellent flavour.
Brazilian/Honduras blend - strong flavour, full-bodied.
Colombian De-Caffeinated - The "Lord Byron": a special water-wash decaffeinated coffee, no chemicals used.
If you like our Aardvark Coffees, you can buy 227g packs in the café, for £6.50 (plus postage if you would like us to send it to you) and £7.50 for the Colombian De-caffeinated coffee.
We also sell Bassanio Coffee Beans, if you wish to grind your own coffee: Price: £8.50 per pack of 500g, or £17 per kilo, plus postage.
Our Café is open now for takeaway drinks and cake slices...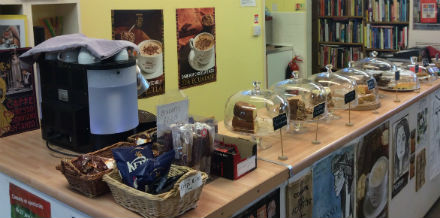 We can now seat you inside for drinks and cakes. We are still serving you takeaway-style, and you can of course eat outside. We have put up a tent and extra tables at the front of the Bookery so you can enjoy the view!
We look forward to further opening up as COVID restrictions ease.