The delicious heart of the bookshop!
The Aardvark Café was not an original part of the Aardvark story. It came about following our meeting Tony Good from High Ground Coffee. Tony is a consummate salesman and before long he had us trying numerous coffees, visiting coffee roasters and talking knowledgably about crema and the differences between Arabica and Robusta coffee beans. Eleven years on, the café is an integral part of the bookshop and also a valuable meeting place for the local community or those passing through.

We are particularly fond of the many groups who visit us, whether it is cycling clubs from Leominster, Ludlow and Hereford, motorcycle groups from all over the country or even from time to time vintage motoring societies. We can also accommodate groups and larger parties (with advance notice).
If you wish to book a special occasion tea or coffee party, or light lunch (soup and toasties) - please call us 01547 530744 to discuss your requirements. NB Booking essential for groups of 10 or more.
Please inform us of special dietary requests. We have gluten-free cake and bread available, and non-dairy milk, and our homemade event soups are always vegan. Don't hesitate to call us if you would like more information about allergens or ingredients.
Cakes and Savoury Pastries
Our cakes are all freshly made by Jo Bebbington (of The Loft in Church Stretton) and there is always a good range of treats often made with fresh local ingredients in season. Our daily range of cakes includes the ever popular Victoria Sandwich and Coffee and Walnut cake, dairy-free Carrot Cake, Lemon Drizzle Loaf and a gluten free Almond cake. We also have a fantastic range of slices including Flapjack , Brownies (with speciality brownies at Easter and other times of the year) and the popular Aardvark Chocolate and Ginger Tiffin.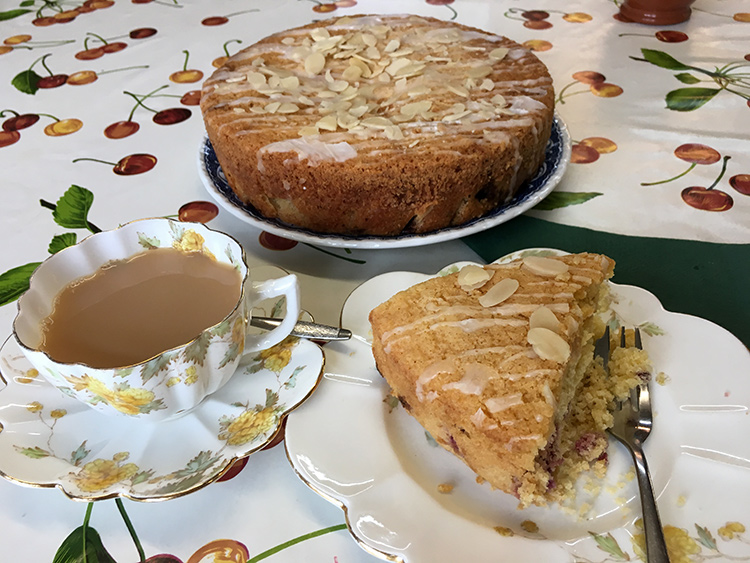 For a light lunch or snack, try our Aardvark Croque-Monsieurs!
Or, Cheese and Ham Toasties in English (we just call them Crocs)- have them with soup, or just served with a little homemade chutney. Mmm, tasty! And if you like a tomato twist, why not try our Croque Royale - Cheese, ham AND tomato! - for £3.90

We serve fine leaf teas and excellent quality coffee from local suppliers:
Teas are provided by Claire Trumper of Trumpers Teas in Hereford. Our range of fabulous leaf teas includes Claire's take on English Breakfast tea (a delicious and thirst-quenching blend of Kenyan, Assam and Ceylon Teas), single estate Assam, Darjeeling, Ceylon, Earl Grey, Lapsang Souchong, Chinese Green Tea, Rooibos and many more. We also have a range of herbal teas including mint, berry, lemon and ginger and camomile and can also offer decaffeinated tea on request.

Our coffees are still provided by High Ground and we have a fantastic range that runs from the mild but flavourful Colombian, through the distinctive Sumatran, to the very strong Brazilian and Ethopian. We can also offer espresso coffees, lattes and cappuccinos – and even a flat white.

Marimba Melts Hot Chocolate, and more soft drinks...
We are delighted to serve Marimba Melts delicious Dark, Milk or White Hot Chocolate, and we do a wicked Junior Hot Chocolate with whipped cream, marshmallows and chocolate buttons!
We also offer a choice of chilled soft drinks, with apple of orange juices for children, and also locally grown Appleteme apple juice. For summer events, ice creams are also available.
This is our own dark chocolate and ginger tiffin: very chocolatey - and gingery!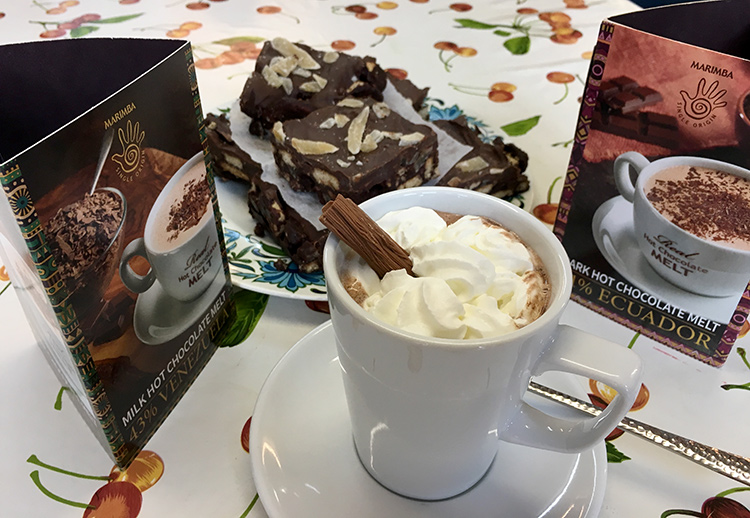 Our café is open 7 days a week:
9am - 5pm Weekdays
10 - 5pm Saturdays
10 - 4pm Sundays

(Apart from 1st January, Easter Sunday, and December 25th and 26th when we are closed.)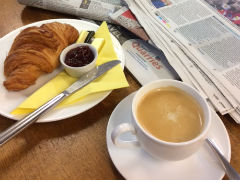 Thinking of bringing a group of 10 or more? Please call us ahead to book,
01547 530744

Even if you don't like books, there is always a reason to come to Aardvark!
Aardvark Café Menu
Homemade Cakes £2.70 per slice
Victoria Sandwich
Gluten-free Almond cake
Coffee & Walnut cake
Dark Chocolate and Ginger Tiffin
(our own recipe!)
Brownies and Blondies
Dairy-free Carrot Cake
Lemon Drizzle loaf
Flapjack

Cakes made by baker extraordinaire Jo Bebbington of The Loft, Church Stretton.
Aardvark TEAS - Leaf Teas and infusions £2.30
Leaf teas supplied by Trumpers Teas, Hereford:
English Breakfast (a blend of Kenyan, Assam & Ceylon)
Earl Grey
Assam
Ceylon
Darjeeling
Green Tea (Chinese Pi-Lo-Chun)
Rooibos
Aardvark COFFEES - all at £2.60
Ground Coffees supplied by High Ground; Fairtrade, medium roast, flavourful ground coffee.
As well as Cappuccino, Latte, Americano and Espresso coffees, we serve cafetières of High Ground Coffee (in order of strength of flavour, mild to strong):
Papua New Guinea - mild, unusual, morning coffee
Colombian De-Caffeinated -The "Lord Byron": a special water-wash decaffeinated coffee, no chemicals used.
Colombian - mild, rounded, most enjoyable
Kenyan Blue Mountain - rounded, smooth, a delightful coffee
Sumatran - perhaps our most popular medium-strength coffee
Brazilian/Honduras blend - strong flavour, full-bodied.

If you like our Aardvark Coffees, you can buy 227g packs in the café.

We also sell Bassanio Coffee Beans, Price: £8.50 per pack of 500g.
MARIMBA HOT CHOCOLATE £2.75
Dark, Milk or White chocolate flakes melted into milk.
Junior hot chocolate with any or all of the following: cream, marshmallows, chocolate flake bar...

SOUPS (served with Swift's bread, and butter) £3.90

Selection subject to availability, we usually have a selection of 3 or 4 different soups. For our events, homemade vegan, gluten-free soup is usually available.
Gluten-free bread is available, please ask.

AND, DON'T FORGET THE CROQUE MONSIEURS!
£3.60, or £3.90 for a Croque Royale
Our toasties with tasty cheese and juicy ham are served with a choice of chutney. Made with Swift's Bakery granary sliced bread. Can be varied: cheese only, ham only, cheese & tomato, ham & tomato, or the Croque Royale combination of Cheese, ham AND fresh tomato... excellent value as a lunch snack, or at any time of day!