Our little café in the middle of the Bookery welcomes you in 2022!
We are OPEN Tuesday - Sunday, 10am-4pm
We serve leaf teas, ground coffees, melting Marimba hot chocolate, delicious homemade cakes AND light lunches!
You can eat and drink inside or at our tables outside the bookshop, in fine weather... the tent is up outside the front door so you can enjoy the view!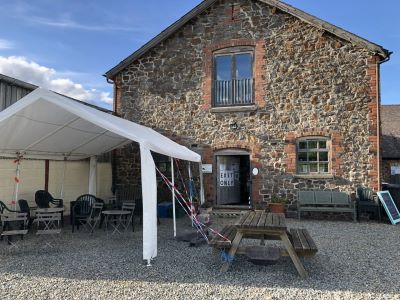 For more information, and to book for group visits, call us on 01547 530744. Booking needed for large groups of more than ten or twelve.

Light lunches / snacks: We usually have a range of soups, served with Swifts Bakery bread, and we serve toasted sandwiches too, including gluten-free options.
Our cakes are made by Chelsea and her team at Kingsland Village Shop and Tea Room: the delicious gluten-free almond & fruit cake, coffee & walnut cake, Victoria sponge, chocolate cake and lemon drizzle loaf are all popular.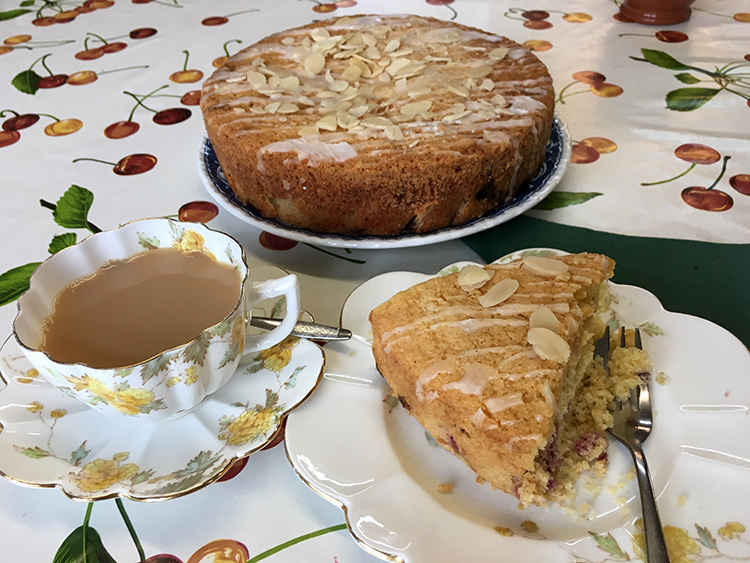 Our Aardvark Coffees
We serve quality ground coffees: why not enjoy a cafetière of medium roast, flavourful coffee.
At the moment we can offer you:
Colombian - mild, rounded, most enjoyable
Kenyan Blue Mountain - rounded, smooth, a delightful coffee
and a Featured Coffee:
Vietnamese Dragon Balls from the amazing Algerian Coffee Store in London
Marimba Melts Hot Chocolate
Smooth, creamy hot chocolate melts, made with real chocolate flakes: choose from Milk, Dark, White or Ruby chocolate. Can be served with cream and marshmallows if desired!
Trumpers Leaf Teas
We are delighted that Claire Trumper has continued to supply us with her delicately flavoured quality leaf teas. Try her English Breakfast blend, the subtle Earl Grey, the light Darjeeling or the special Green Tea and we think you'll agree!
We welcome everyone, and have disabled access to the cafe which is on the ground floor.
We are also dog-friendly! Dogs and their well-behaved owners welcome.
Any questions, or to book for a group, please call us 01547 530744.
Bookshop and Café opening hours 2022:
We are usually open
Tuesday-Sunday, 10am - 4pm
Christmas Opening 2022:
We will be CLOSED on:
Sunday 25th December
Monday 26th December
and
Sunday 1st January 2023
A Big Thank You!
We wish to thank all our customers, regular and occasional, and the many groups who have visited us over the years, and continue to visit: whether walkers, cycling clubs from Leominster, Knighton, or Ludlow, motorcycle groups from all over the country or even from time to time, vintage motoring societies.