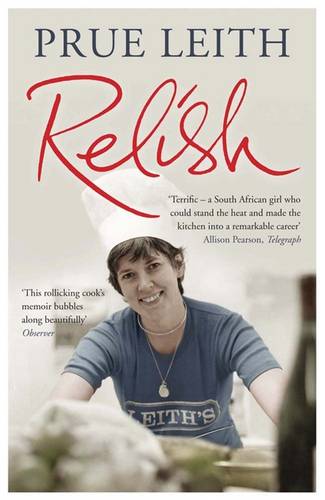 Relish: My Life on a Plate
1 available
Book Details:
Publisher:Quercus ISBN:9780857384058 Published Date:27th September 2012 Dimensions:128 X 196 X 36 mm Weight:0.3403 kilograms Pages:528 Binding:Paperback Condition:Acceptable
Short Description
The memoir of a woman whose refreshing charm, humour, energy and zest show her remarkable appetite for life.
---
Full Description
The eye-opening story of one woman's incredible appetite for life: Prue Leith, judge of C4's GREAT BRITISH BAKE OFF and former judge of BBC2's GREAT BRITISH MENU.
'What a terrific tale it is - of a South African girl who could stand the heat and made the kitchen into a remarkable career' Telegraph
Prue Leith describes herself as greedy in all senses of the word. Cook, caterer, restaurateur, food writer, journalist, novelist, businesswoman, teacher, television presenter, charity worker, lover, wife and mother, she has certainly been greedy for life. Prue came to London in the early 1960s and, not long afterwards, opened Leith's Restaurant. By the mid-seventies she was a food columnist on the Daily Mail, had published several cookbooks and opened Leith's School of Food and Wine.
But it wasn't all work. Prue writes with honesty of her affairs, her longing for children, the birth of her son, the adoption of her daughter and many other things besides. Prue's down-to-earth attitude is an inspiration.
---
Review
Writing honestly about her career as well as her upbringing in apartheid South Africa and her longing for a family, Prue shows that life is what you make it * Daily Express *
Honest and well-written ... a revelation ... A perfectly blended mix of humour, emotion, love and reflection, Leith has served up a tasty dish * Daily Mail *
A searingly honest memoir ... much to entertain * Independent on Sunday *
Whether Leith is talking about business, personal tragedy or her accidental attendance at an orgy, her tone is no-nonsense ... contains some hilarious vignettes * Observer *
An interesting and entertaining autobiography * Scottish Home and Country *
Her racy memoir pulls no punches * Sunday Telegraph *
This book is like a jolly montage from a wholesome family movie ... a joyful story rather than a self-pitying one * Mail on Sunday *
This heart-warming story must be one of her finest moments ... You'll devour it * P&O Magazine *
What a terrific tale it is - of a South African girl who could stand the heat and made the kitchen into a remarkable career * Telegraph *
---