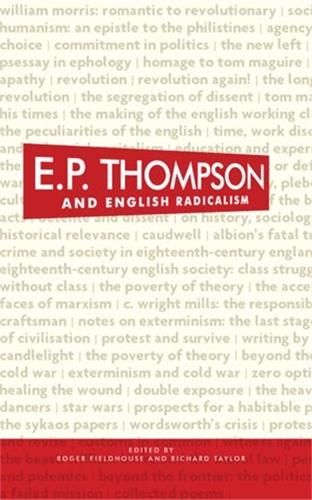 E. P. Thompson and English Radicalism
1 available
Book Details:
Publisher:Manchester University Press ISBN:9780719088216 Published Date:28th February 2014 Dimensions:144 X 218 X 26 mm Weight:0.4220 kilograms Pages:272 Binding:Hardcover Condition:New Notes:1st HB Manchester 2014; new mint copy in stock for immediate dispatch from the UK
Short Description
E. P. Thompson and English radicalism celebrates the fiftieth anniversary of The Making of the English Working Class, one of the most influential history books of the last fifty years, and demonstrates the present day relevance of Thomnpson's historical, political and polemical writing and peace campaigning.
---
Full Description
This collection of essays marks the fiftieth anniversary of the publication of E. P. Thompson's most famous book, The Making of the English Working Class. It was a highly influential work which contributed significantly to a revolution in the way history was studied, not only in Britain but in many countries. Instead of viewing history solely in terms of kings, courtiers, aristocrats and politicians, historians began to consider the perspective of the common people. E. P. Thompson and English radicalism gathers together a selection of leading authors from a diverse range of disciplines to critically review not only this pivotal work, but the wide range of his career, including his experience as an adult educator, writer, poet and critic. His involvement in the early New Left, his political theories, his socialist humanism and his concept of class are all interrogated fully. Thompson was also a notable and passionate political polemicist, peace campaigner and activist who saw all his public activity as complementary parts of a unified whole, and this collection aims to bring his ideas to the attention of a new generation of students, scholars and activists.
---
Review
Intellectually exploratory and written with admirable clarity, E.P.Thompson and English radicalism achieves the almost impossible: it does justice to a great historical thinker and practitioner who also wrote poetry, loved liberty, hated humbug and resisted the inner and the outer hold of capital over human existence and experience. It illuminates a valiant, many-sided, quizzical friend of the people for readers who know his work and for those yet to discover his writing.' Sheila Rowbotham, author of 'Dreamers of a New Day: Women Who Invented the Twentieth Century' (2010) 'This eloquent set of essays manages to address, both sympathetically and critically, the many and varied aspects of Thompson's life, as a historian, a teacher, a poet, a political activist, a Marxist and libertarian, and an Englishman and a cosmopolitan. Thompson's legacy is hugely relevant for the troubled times in which we now live.' Mary Kaldor, The London School of Economics and Political Science "A major book on Edward Thompson, who died 20 years ago, is an important reminder of the loss of English radicalism and the need to revive it" (Michael Barratt Brown, The Spokesman, 124, 2014) "If adult education for social change and the pursuit of social justice sometimes feels like an idea that got lost along the way, this collection reminds us that there is nothing inevitable about this, and that people with passion and agency, committed to listening,learning and teaching, as Thompson was, can and do make a difference." (Alan Tuckett; Adults Learning, July 2014) "In the current swamp of neoliberal ideology and bankrupt 'coalition' politics, it's good to be reminded of other, more hopeful, possibilities." (Sir Peter Scott, Times Higher Education Supplement, July 2014) ...this collection of essays explores in some detail the diverse range of activities and interests of this 'passionate and romantic polymath. -- .
---