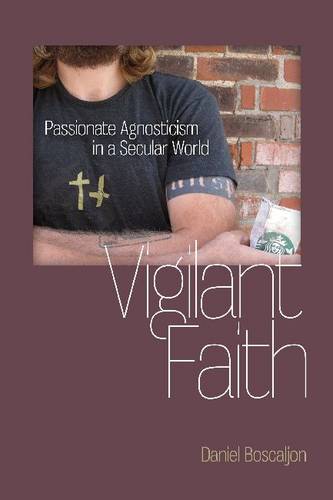 Vigilant Faith: Passionate Agnosticism in a Secular World
1 available
Book Details:
Publisher:University of Virginia Press ISBN:9780813934648 Published Date:30th October 2013 Dimensions:150 X 223 X 15 mm Weight:0.3176 kilograms Pages:224 Binding:Paperback Condition:New
Full Description
In
Vigilant Faith: Passionate Agnosticism in a Secular World
, Daniel Boscaljon takes up the contemporary challenges to faith by scepticism and secularism. He proposes a model of faith for believers and unbelievers alike-a passionate agnosticism-that is rooted in a sceptical consciousness. Scepticism and faith are structurally similar, he writes, in that they share an ""unknowing"" quality. The author argues that vigilance-the act of keeping watch, a spiritual practice in its own right-is as necessary a precondition for the structure of faith as it is for the structure of scepticism. A suspension in uncertainty and an openness to possibility require vigilance, he attests, if faith and scepticism are to avoid the often dogmatic tendencies of both theism and atheism to cling to their own brands of certainty and knowledge.
Boscaljon has three aims: to expand the current, post-theistic definitions of God for greater relevance to human beings on an individual and existential level; to integrate scepticism into faith so that it will restore the importance of faith to current theology and recover it from anti-intellectual bias; and to conceptualise the vigilance of faith in such a way that can provide a vocabulary for distinguishing ""good faith"" from ""bad faith."" He offers a variety of cultural examples ranging from film to poetry to represent a life of faith and to show how its components come together in practice. As an alternative to the prevailing fundamentalisms in today's world, his book proposes a paradigmatic understanding of faith in which theism, atheism, and agnosticism refuse to differ.
---
Review
Daniel Boscaljon has provided an original, compelling, thoughtful, and much-needed alternative model of faith. Vigilant Faith is beautifully written, including moments of sheer transcendence while remaining within an immanent frame of reference. Meant not only for scholars of religion, this book offers a compelling model of faith for all those who are spiritually, if not necessarily religiously, inclined. It is a phenomenology of everyday life that is a powerful affirmation of the spiritual potential that lies hidden within the secular world.
--Jeffrey W. Robbins, Lebanon Valley College, author of Radical Democracy and Political Theology
What is most affecting about this book is its voice. Though there is no specifically personal anecdotes, there are dramatic moments when Boscaljon shares what must have been his own points of revelation.... Unlike some academic philosophy, which is as hard to connect to the mundane as string theory, Vigilant Faith has a purpose outside the academy: It invites the reader to participate in a process of finding a way of faith, without asking them to, as Mark Twain would say, 'swallow any stretchers.'
--Little Village Magazine
In this trajectory into the issues of skepticism and faith, Boscaljon (independent scholar) traces lines of inquiry beginning with brokenness and posttheistic, Continental philosophy...Later chapters explore anonymous hierophanies; the idea that "all things can serve as the foundation for a truth to which faith can cling"; things that are "meaningful to a culture assailed by brokenness"; and the virtues of vigilant faith developed by an analysis of the parable of the ten virgins.
--Choice
---