The Aardvark Blog
A New Year and sooo much to do; 17th-21st January Bookshop closed
A New Year and sooo much to do; 17th-21st January Bookshop closed

Every year we start out with a list of things to do, and this year is no exception.
The first thing to say is that for the first time in our 18 year-and-three-week history we are actually closing the bookshop for a few days from the 17th to the 21st January inclusive. We will be open both weekends before and after, but will shut both physically and online over the days in between. Since it has been over two years since our last holiday, the Aardvarks are in need of a bit of battery charging time away from the shop, and this seems to be the best time to do it.
Although the shop has been quiet since the year started, online sales have been really strong so I am hoping that this is a trend that continues for the rest of the year. I always think that money that comes into the business in the first couple of months of the year counts double as it is always a thin time, and the coming of the Omicron Variant does not help matters any. So selling some expensive titles is a really nice fillip.
Something that I have been doing since Christmas is reading the books that friends and f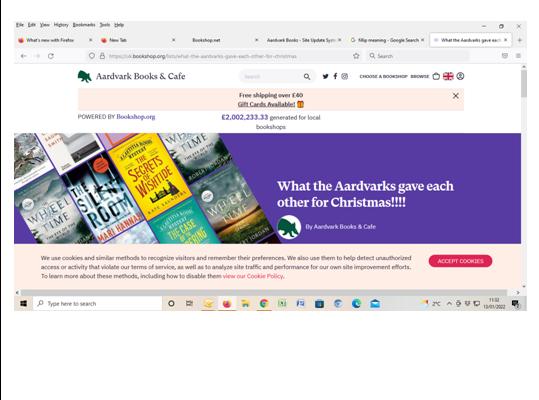 amily were generous enough to give me (and Ethel). For a full list of what we have had our snouts in, go to our Christmas present list at https://uk.bookshop.org/lists/what-the-aardvarks-gave-each-other-for-christmas .
We have also been working on our programme for the year which will be shortly posted up on to the website, and those of you on our mailing list will have the first sneak preview!
First up will be our April 16th Garden and Car Boot event: we are already taking stall bookings for this, and if you want to have a pitch, the cost is still an incredibly reasonable £10! Book now to avoid disappointment.
With best wishes to all for a hopeful start to 2022!
Published by Aardvark Books Ltd on