The Aardvark Blog
The Queen's Passing
The Queen's Passing

All yesterday customers were discussing the news from the Palace about the Queen's health and sharing stories of encounters with members of the Royal Family. Then after I had got home at 6pm I turned on the news and saw the strained and tearful face of Huw Edwards announcing the Queen's death. At a time when so many challenges are facing us, my first thought was of how we would move on without such a central figure in all our lives.
Then I thought about my mum who we lost a few years ago and who was almost exactly the same age as the Queen. But then I thought about how strong and forthright the Queen was during the worst of the pandemic, and how even for an old leftie like me she brought a feeling of calm and continuity at a time when we were all afraid having seen the pictures of what had happened in Northern Italy.
Next I thought about the Jubilee celebrations in June, about the feeling of community we had as we sat up on the hill at Gatley Park, listening to music and watching as the great beacon was lit, saluting other beacons on the hills around miles apart. Even then I think we all had a sense that we would not see such an event again, and that we were celebrating a unique achievement in the life of our great nation.
But finally I thought about what will probably be the thing that we all remember the most fro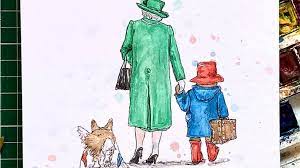 m the Jubilee celebrations - the Queen's meeting with Paddington Bear. The nation's longest-serving monarch and perhaps our most loved children's character sharing a mutual love of marmalade sandwiches.
I don't know what else to say, but at times like these I reach for verse - and who better to reach for than Yeats:
"I had thought, seeing how bitter is that wind
That shakes the shutter, to have brought to mind
All those that manhood tried, or childhood loved
Or boyish intellect approved,
With some appropriate commentary on each;
Until imagination brought
A fitter welcome; but a thought
Of that late death took all my heart for speech."
Published by Aardvark Books Ltd on (modified )