The Aardvark Blog
We have sooooo many books in the shop!
We have sooooo many books in the shop!

Autumn is my favourite time in the bookshop because we have sooo many new books coming into stock. On the downside I am the poor fool who has to put them onto the system and my thick fingers ( great for finger wrestling at boarding school, but not much else) get really tired.
And this year by coincidence the book fairies have been so incredibly generous. We have a ton of wonderful new books on food ( also an Aardvark favourite), Gardening, Nature, Art, Textiles, Buddhism and Sci-fi - amongst many other areas. I have attached a picture that shows just a tiny part of what we have had in this week.
It is always difficult to stay efficient and not to find oneself diverted by books with titles such as 'Walled Gardens' or 'Snackinista'. And that is not including all the truly brilliant American pulp sci-fi that I just bought. Well over 700 bo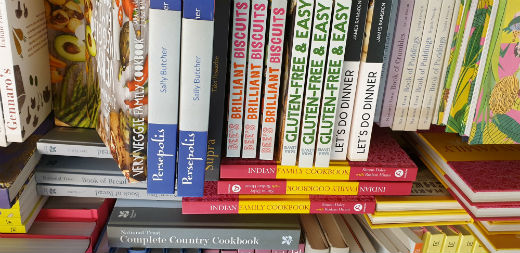 oks by both familiar and unfamiliar authors on all the best sci-fi pulp publishing houses Baen, Ace, Tor, Berkley etc. At times like these I become a total fan boy and it takes me back to my teenage self reading E E Doc Smith by torchlight under the covers in my dorm. If you love sci-fi as much as I do you have got to come in and see them.
It is looking less likely that we will be able to do anything special at Christmas which makes me very sad indeed. Our Christmas Fair has become something of a legend and I really want to support some of our local crafts people in particular. Maybe we might be able to have a Brampton Bryan Craft feature in December - we will just have to weigh things up and see.
Thank you to all the wonderful customers who have come into the shop in September and October. We do appreciate your custom and we hope that we made you feel safe and welcome. This is a really hard time for every-one and my hope is that dressing up like characters out of 'Contagion' will not become a regular habit for booksellers ( note to governments can we have a permanent international pandemic alert body separate from the WHO!)
And finally if you have not seen the news ( and lets face it there have been a few things going on recently ) Edward Harley the laird of Brampton Bryan ( and the world's most supportive landlord to Aardvark since June 2004) has been made Herefordshire's Lord Lieutenant. A hearty Aardvark congratulations to him - a well deserved honour after so many years of solid work behind the scenes in the community.
Published by Aardvark Books Ltd on