The Aardvark Blog
Two sad pieces of news, and some good news!
Two sad pieces of news, and some good news!

Two sad pieces of news to talk about today.
Firstly tomorrow is the last day of Wenlock Books - Anna Dreda will be closing the door for the last time at 5pm Saturday, so if you want the chance to take home a souvenir of what was once judged to be the finest bookshop in the country, now is truly your last opportunity. A lot has been said and written about how special Anna's bookshop was. All I can say is that the outpouring of thankfulness (and sadness) prompted by Wenlock Books's passing is unprecedented in my experience.
Another sad piece of news is that I learnt from the Times obituaries column that the great thriller writer Anthony Price passed away last month. Mr Price was a giant in his field and I have always found his fans to be amongst the most discerning of genre writing buyers. A fantastic legacy of complicated, well researched and compelling novels that have and w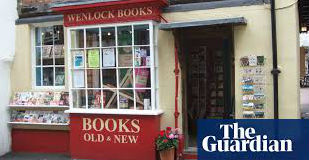 ill stand the test of time. Indeed I can only think what a younger Mr Price would have made of the opportunity to write about Putin's Russia. Start with the 'Labyrinth Makers' and proceed to the end. As with Len Deighton, time spent with a truly talented popular writer is never time wasted.
And finally some good news. Firstly i have spent this morning buying half a car full of fantastic art books from a local house. Some absolute crackers which are not to be missed. I will start to put the books on this afternoon so next week will be a great time to visit the bookshop. Also on the good news subject, tickets are selling well for Sunday week's 'Poetry in the Barn' event on the 7th of July with Gillian Clarke, but there are still some spaces. The chance to hear eight fantastic poets - including Jonathan Edwards, this year's winner of the Welsh Book Council's People's Choice Award. Tickets cost £30 to include light refreshments.
Published by Aardvark Books Ltd on (modified )