The Aardvark Blog
An appreciation for Fela Kuti is just one thing I learnt from my wife
An appreciation for Fela Kuti is just one thing I learnt from my wife

I'm running late this week, having spent too much time looking through lists and planning Christmas purchases on bookshop.org. If you haven't checked it out yet, I suggest you do so, as it is fab! (Start on our page https://uk.bookshop.org/shop/aardvarkbookscafe and all purchases will support us as well as UK independent bookshops!)
I cannot sign off, however, without noting that there is a fantastic feature-length documentary on Fela Kuti tonight on BBC2. Ethel introduced me to Fela on one of our first dates - she had got to him via the music of his son Femi - and I remember at her recommendation buying the brilliant album that Fela did with that other maverick Ginger Baker. In addition to Baker, Fela was fortunate to play with Tony Allen, one of the greatest drummers of all time.
Last night I watched on Youtube a brilliant piece on the Jeff Buckley song Vancouver by Rick Beato. The song is one of the unfinished masterpieces on 'Sketches for My Sweetheart the Drunk', which is a record I listen to often. Not as finished as 'Grace' - a bit like listening to the 'White Album' rather than 'Revolver'. Also a really moving interview with Buckley's manager Dave Lory who last year published a book on Buckley after 20 years of silent grieving.
A big new delivery of Christmas stock is coming next week, so check out the website for new tit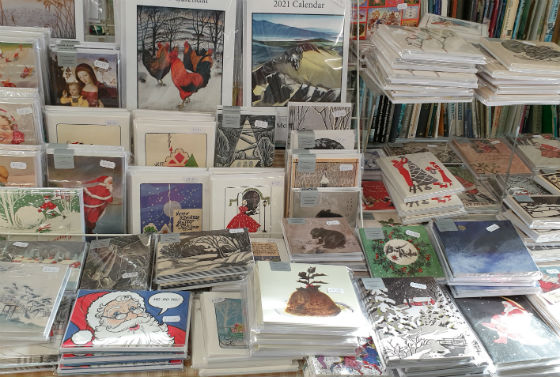 les next weekend. In the meantime I think I have finally finished putting on the classic sci-fi library (truly an amazing pleasure and education). So many great titles, most in the original pulp fiction US editions from publishers such as Del Rey, Daw and Ace.
We are getting ready to re-open - God and Boris willing - on the 2nd December and can't wait to share with you some of the new stock I have been putting on over the last few weeks since we closed to personal visitors. Also I had just got in tons of calendars and Xmas cards about two days before lockdown, and we are ordering Christmas wrapping paper, so if you are looking for Christmas supplies, don't worry as we have lots.
Published by Aardvark Books Ltd on (modified )