The Aardvark Blog
Patience (how we all have less than we think we have)
Patience (how we all have less than we think we have)

The last few weeks have been somewhat tricky here at Aardvark towers as we have been trying to cope with an on-going computer issue that has meant that all books that sell - both in the shop and online - have to be taken out of stock in multiple places on our computer system. To compound this problem further, it is obviously the summer and the shop has been very busy with customers buying record numbers of books.
And to make things even trickier, the last week was the date we decided to go back to offering our full menu including light lunches and to serve customers their drinks and food on real china rather than disposible cups and plates, which is better and has been long-requested by our customers.
All of which is my way of saying that if you have had to wait longer than usual in the café or bookshop - particularly last weekend - I am extremely sorry and I hope we have not tried your patience too much.
My own patience has also been somewhat stretched over the last month as we have had a recurring accounts issue with our carrier (whose name I will not mention to spare their blushes). They seem to have a visceral dislike of the Direct Debit forms we continually send them, and to combine this with a helpful telephone system that periodically tells you very politely that it has a fault before disconnecting itself. This combined with the fact that our accounts information is still not in the bookshop, has made getting the problem sorted out next to impossible. When I do finally get through to an actual person I am therefore sometimes already on the verge of losing my rag (half an hour of the same short musical phrase on a telephone system can do that to you).
Due to the various work issues, and other personal stuff which has been occupying us, it has taken me 2 weeks to finally speak to my best friend's wife who let me know a while back that a key meeting with his consultant was coming up this month. When she called this lunchtime, I didn't want to play telephone tag for another fortnight and more, and therefore took the unforgivable decision to carry on a personal conversation whilst serving a customer. It turned out that the call was to tell me that no further chemotherapy was possible.
One particular customer had a large pile of books, and due to the aforementioned computer issues, it therefore took longer than usual to remove the books they wished to buy from all parts of our stock system and to put through the payment on the PDQ. During which time he had to endure listening to my fairly dark conversation. When his transaction was completed he towered over the counter before declaiming very loudly that 'it was lucky that he was a patient man' and then storming out of the shop.
I often say that the reason I am a bookseller is that I like people and only secondarily that I like books. In that moment I was I confess starting to re-evaluate my feelings. And then a strange thought occurred to me. Plainly my customer really did believe he was a patient person, just as I always believe that I am patient in my frustrated confrontations with bureaucracy and business incompetence. His reaction made me realise that over the last year or two I have not always been the person I would like to be. I have sat and fumed when made to wait, or issued the odd sardonic remark when forced to endure a delay as a result of Covid related practices. And it is frustrating that still over a year and a half after the start of the pandemic, some companies are still not back to providing full customer services, whilst other companies seem to have dealt with the problems of Covid in their stride.
But frustration is no excuse for poor personal behaviour. And experiencing slight delays in one's day does not give one a free pass to behave badly.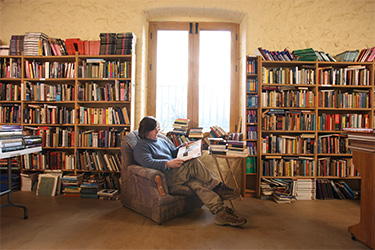 Published by Aardvark Books Ltd on (modified )