The Aardvark Blog
This week of opening has been a real joy
This week of opening has been a real joy

We have now been open for a full week and it has been a real joy to greet familiar faces, and also to welcome a surprising number of people new to the shop. We have been simply overwhelmed by all the nice comments and positive vibes. Thank you also to those who have called us or emailed us to wish us luck for the re-opening.
I have been extremely pleased in particular that we have been able to combine the opening of the shop, with continuing to deal successfully with online orders. Opening a little later gives us an hour to sort out issues before the store is open to the public. I think that even when the pandemic retreats this is something that we will continue with. Similarly we may continue with the Monday closing as it does give us a chance to tackle longer projects which are simply not doa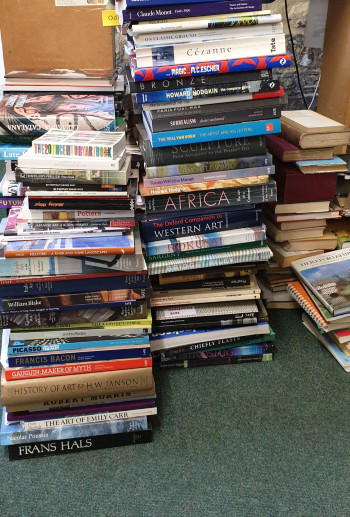 ble when the shop is full of people.
Also on the agenda for last week was the purchase of an interesting small collection of art books (see image to the right). As regular customers will know, we love art books here at Aardvark and we have sold so many over the last few months that I was starting to feel that a few gaps were developing on the shelves (not a phenomenon that is common in this shop where usually we are desperately trying to cram a quart into a pint pot).The books are already starting to hit the shelves and there are some really unusual titles. Have a look at our Art History and Art by Artist art books in our online bookshop.
Culturally I have recently watched two movies which I can recommend: 'Portrait of a Lady on Fire' by Céline Sciamma and 'Whiplash' by Damian Chazelle. The former is one of the most beautiful films I have seen in a long time - amazing cinematography, and the latter is still available for free on Iplayer. Both in their own way really compelling.
Meanwhile I am looking at the list of forthcoming exhibitions and hoping that I may be able to get to see a few of them. A Jean Dubuffet exhibition at the Barbican which is scheduled to open in mid-May is top of my list, but Ethel is fantasizing about a small Canaletto exhibition at the Holbourne in Bath that opens a little later. Closer to home there are some exhibitions planned locally for the summer months, and h.Art is due to return in September!
In any event how amazing will it be to be back inside a gallery/museum/concert hall/ cinema/theatre, and how long has it been since any of us were able to enjoy that experience. Jonathan Lyness, opera director and all round good egg was one of the first customers through the door this week, and I was delighted to hear of his plans for the summer. Let us hope that all the artistic plans of our brilliant creatives can come to fruition.
Published by Aardvark Books Ltd on (modified )