The Aardvark Blog
Kingsland Church, Easter Saturday, Civil War Re-Enactment etc
Kingsland Church, Easter Saturday, Civil War Re-Enactment etc

It is something I have noticed over the years that the first spell of decent weather always causes activity in the shop to dip. This year has been no exception, although the good weather has fallen in March, rather than in May or June when I would normally expect it. This has meant several days without having to light the wood burner, and notwithstanding its impact on business, a definite lightening of the soul amongst all of the Aardvarkanistas. Being able to sit out side in the sunshine and eat lunch with the hills surrounding you is one of those small pleasures which have made up for some of the difficulties of the last few years.
Speaking of difficulties the war in Ukraine has now being going for a week and it has become hard not to become desensitised to the appalling stories and images. We have collecting boxes for the DEC in the shop and have been thinking about how else to help. Meanwhile there are various charity initiatives going on in the area and I am sure that there are more in the planning.
On another positive note I have watched with joy as the final scaffolding has started to come down from Kingsland church - the village where Ethel and I have lived since 2007 - and yesterday when I walked our dog after work the final pieces had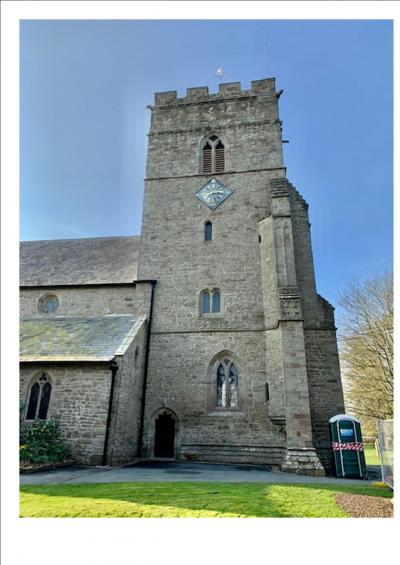 gone and all that is left is a portaloo and a skid with poles and planks awaiting collection. It seems as if the works have taken for ever to complete, but now it is all finished I am stunned by how beautiful the church looks and pleased I am that this generation has set it in good order for the next hundred years. I took the attached photograph in the sunshine this morning and I would urge everyone to stop and have a look round if they are passing the village anytime soon.
We are now close to being fully booked for the Easter Car Boot garden event, so if you do want a stall then please do put your hand up now. We are only using the car park for this event, but I am sure that everyone will find some fantastic gifts ( to themselves or others ) on the day. Also we again have live music from the wonderful Jack Brett and Friends, together with thousands of plants from our chums Kim and Rob of the Cottage Herbery. If your garden is looking anything like ours then it will need some cheering up and what better place to start than some of the CH's brilliant hardy plants.
Finally I was delighted to have a long chat about this year's English Civil War Siege weekend with Chris King from the English Civil War Society. 2022 will be the last time we run the event, so I am hoping to get as big an audience as possible. This year's event runs on the 13th and 14th of August and Cynthia from the Brampton Bryan Church Appeal will also be running a display in the church showing the work that has been done and the church's incredible history.
Finally looking forward a month or two this year's Hellen's Music Festival in May has an absolutely brilliant programme including pieces from Fanny Mendelssohn, Mozart, Herbert Howells, Dvorak and many more. I often think of this as being like a Spring version of our more local Arcadia Music Festival which runs in October. The surroundings at Hellen's are spectacular and if going for an evening concert why not combine it with a trip to Ledbury ( one of Herefordshire's most beautiful towns).
Published by Aardvark Books Ltd on