The Aardvark Blog
We are open today ( and yes I have seen the forecast AGAIN
We are open today ( and yes I have seen the forecast AGAIN

I have been taking a bit of time out of the bookshop in the last week to try to help my recalcitrant knee to get a little better. Ethel has joined in the efforts by presenting me with an adjustable walking stick this morning ( nothing says young and viral husband like hobbling around on a stick).
Still it is nice to be back in as the new books keep piling up and I have another two book calls next week so the situation is close to getting desperate. This last weeks haul has included more cookery, some great ficti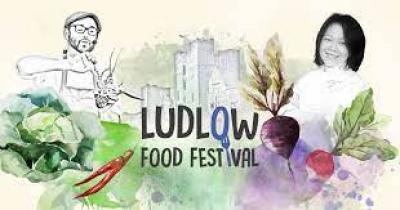 on, some music titles and some interesting theology and spirituality books. Every week is different in terms of what comes in, but overall I am still of the opinion that the stock in the bookshop is the best that it has been ever.
Sadly there will be no London Bookfair this year as I have just had through an announcement that fair will be virtual only in 2021, but - drum roll everybody - there will be a Ludlow FoodFair in 2021 ( covid secure) and Aardvark will once again be involved. This is so exciting and a sign that life is starting to return to some kind of normal.
I have so many happy memories from Ludlow over the years, and between that and the return of Herefordshire Art Week - we are hosting 'Abstract Edge' for the first time ( a delayed engagement from last year), I am feeling that September could be the month that we all get to take a sign of relief and gently ( and cautiously) move into the sunlight. As far as the rest of our usual autumn events are concerned I will let you know what is happening as we get news in.
Published by Aardvark Books Ltd on